Introducing the
Career Key Discovery app
for Higher Education

Coming this spring
Guided, self-service career and education advising
Yes, I'd like to learn more about Career Key Discovery including a free trial and exclusive offers.
Put science in your formula for success
With Career Key Discovery, get the right students in the right programs to
improve outcomes

using the proven science of Holland's Theory of Career Choice.
Student WINS
Higher grades
Persistence in a major
On-time graduation
Higher salary
College WINS
Improved performance and rankings
Satisfied parents
Alumni contributions
Retention and ROI
Avoid attrition losses
Save more than $10,000 by matching one student to best-fit major
Retain tuition revenue
What if helping your students clarify program and career direction could be simple?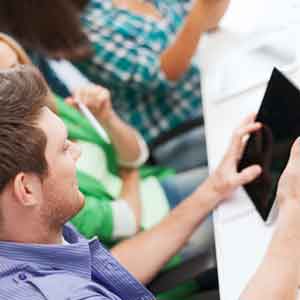 It is!
With Career Key, you, your students and applicants will discover which of your college's majors, environments and careers are the best fit for a student's unique personality.
Results from our brief assessment and proprietary data matching lead students to a major and career selection process that gets them excited and focused.
Because students see only majors and programs offered by your college, you'll both know whether a fit exists. And once a student enrolls, success efforts can expand this collaboration.
Students' success is your success!
Career Key Discovery is for Admissions, Student Success, First Year Experience programs,
and Career Services
Admissions
Know which applicants are the best fit for your specific programs. You focus resources and students feel the fit—your formula for the RIGHT outcomes.
Student Success
Understand whether a college major fits for any student. Enjoy easier advising and supportive redirection for REAL student success.
Career Services
Connect academics with jobs to engage students. Serve graduates with immediate return on investment. Satisfy employers with best match, high-performing candidates.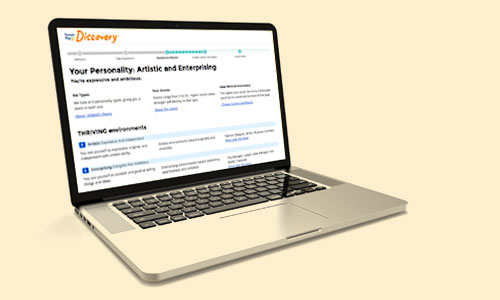 Gain all the benefits of simple, fast implementation
Easy adoption by counselors, faculty and staff
Technical set up as simple as adding Google Maps to your website
Modern, mobile-friendly usability today's students expect
Data you can export to other systems
Yes, I'd like to learn more about Career Key Discovery, including a free trial and exclusive offers.